Wilhelm Scholê International presents
"Dances of Enlightenment"
Performed before a live audience on May 19, 2009 at RAI Television's Alessandro Scarlatti Auditorium, in Naples, Italy. The performance was televised nationwide.
CLICK HERE to view the original invitation
Si ringrazia vivamente il Console Generale Italiano a Houston e la Italy America Chamber of Commerce in Texas per la preziosa traduzione del programma
DANZA DI LUCE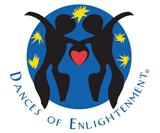 Un prolondo ringraziamento al Comitato per la realizzazione di
DANZA DI LUCE
Toby Mattox - Jan Hartke - J. Todd Frazier
John Tsacrios, Jr. - Nicholas Phillips
Thomas Poung Au - Giovanni Picone
Executive Planning Committee
Dances of Enlightenment
David Jhirad, Jan Hartke, Marcelo de Andrade, Marilyn Wilhelm,

Andrea Fasanello, Peter Lighte, Julian Grant, Barry Munitz, Lucy Jarvis, Scott McArthur, Anna Maria Tornaghi, John M. Tsacrios, Jr.